About the Show
Oobi focuses on the daily experiences of a curious hand puppet named Oobi. He explores the world around him along with his younger sister Uma, his best friend Kako, and his grandfather Grampu. Read more about the series here!
Puppet Poll
Who is your favorite character?
Featured Quote
"
Birthday? Big deal.
Lost puppy? Big deal.
Alien spaceship? Really big deal!
Messing up? No big deal. Messing up, just...life.
"
Did You Know?
Oobi was the first television series produced by Little Airplane.
The first full-length episode of Oobi aired on April 7, 2003. Moose and Zee, Noggin's former hosts, were introduced on this same day.
Josh Selig, the creator of Oobi, was inspired to create the show after watching puppeteers in Poland perform with their bare hands.
According to a 2007 article published by Kidscreen, Oobi was pitched to Noggin under the title Pipo.
Welcome to the Oobi Wiki!
Meet the Characters
Click here to view the rest of our character articles!
Featured Episode: "Dinosaur!"
"Dinosaur!" is an episode of Oobi.
Plot

Click here to view the summary for this episode.
Cast

Click here to view the cast for this episode.
Trivia

Gallery

Click here to view this episode's gallery.

Featured Character: Randy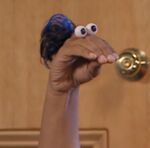 Randy is a minor character in Oobi.
Description

Randy is Oobi and Uma's babysitter. He gives them the nicknames "Oobi-Dude" and "Uma-Zooma." At first, Uma does not appreciate Randy's efforts to bond with her, but he wins her over by dancing with her doll to polka music. She nicknames him "Randy-Candy."

Looks

Randy has dark skin and brown eyes. His hair is black with several streaks of blue.

Appearances

Randy has appeared in one episode of Oobi: "Babysitter!"

The fishing pier is a minor location in Oobi.
Description

The fishing pier is a raised structure supporting a bridge, on which Oobi and Grampu sit when they go fishing. The pier is home to seagulls and fish.

Looks

The fishing pier's bridge is made of brown wood. Many trees and shrubs are visible in the background.

Appearances

The fishing pier is visited in one episode of Oobi: "Fishing!"

Ad blocker interference detected!
Wikia is a free-to-use site that makes money from advertising. We have a modified experience for viewers using ad blockers

Wikia is not accessible if you've made further modifications. Remove the custom ad blocker rule(s) and the page will load as expected.